Breast augmentation is the most popular cosmetic surgery procedure in the world. The procedure has been performed for decades, and it's estimated that over 1 million women undergo breast augmentation each year.
In South Africa, breast augmentation is one of the most popular cosmetic procedures performed. In fact, according to statistics from the Plastic Surgery Society of South Africa (PSSA), more than 13 000 breast augmentations were performed in 2016 alone.
What is breast augmentation?
Breast augmentation is an operation designed to make your breasts larger by inserting an implant into each breast. The implant can be made from a variety of materials, including silicone gel or saline (salt water). While some women opt for silicone gel implants, others choose saline implants because they feel these are less likely to rupture or leak.
Breast Augmentation Cape Town: Choosing Your Implant Size
When choosing your breast implant size, there are several factors to consider:
Your body type – if you're petite and thin-framed, you may want smaller implants than someone who has a fuller figure or heavier build;
Your desired look – if you want big boobs but don't want them too big, then go for moderately sized implants as opposed
Breast augmentation in cape town
Dr Rory Dower
Education And Experience
Rory Dower completed his formal training as a specialist plastic, reconstructive and aesthetic surgeon in South Africa, obtaining both his MMed (Plast Surg) and FC Plast Surg (SA) (board certification).
He has made it his personal commitment and goal to travel widely over a number of years, to learn the techniques of the world's leading plastic surgeons, to understand their philosophy on aesthetic surgery and draw from their extensive experience. He is an internationally trained plastic surgeon that is committed to offering his patients the very best surgical techniques to achieve a refreshed and natural look.Dr Dower completed an aesthetic fellowship at The London Clinic on Harley street, working with David Ross and Charles East, in general cosmetic surgery and rhinoplasty.
After obtaining his qualification in South Africa, he spent three years traveling extensively in an effort to gain new surgical skills and to learn advanced techniques from some of the world's most innovative plastic surgeons.
Breast reconstruction is an area that is particularly close to Dr Dower's heart, and he offers the full spectrum of reconstructive options, including both implant and own tissue reconstructions. This includes the autologous DIEP procedure, which many consider to be the gold standard of own tissue reconstructions currently available. This procedure makes use of the patient's own tissue, taken from the lower abdomen, resulting in both a natural looking and feeling breast, as well as a flatter tummy."Today, there are so many options available to women when it comes to breast reconstruction after cancer," explains Dr Dower. "What's important is that you are given all the options. So, do your research, consult with a plastic surgeon specialised in this area, and make a decision on which option is best for you together."
Dr Dower is also the owner of the Skin Therapy Specialist Aesthetic Clinic, an adjunct to his practice in Somerset West, which offers an intimate and personal service with treatments selected by Dr Dower himself. Whether you're interested in injectable anti-wrinkle treatments (like Anti-Wrinkle Injections) or fillers, or simply want an effective medical grade facial or chemical peel that really delivers results, his aesthetician is trained to incorporate techniques that assist in promoting deep relaxation.
Dr Dower is married to Bridget, a medical doctor who supports his practice both clinically and administratively. He is a great advocate of couples working together, being able to understand and share life in a very practical way that builds understanding and closeness. Together, they have three small children who are the light of their lives and, when not working, they can usually be found outdoors, enjoying adventures and explorations in the beautiful Helderberg basin.
Other world leaders under whom Dr Dower has spent time learning from include:
Professor Wolfgang Gubisch (Stuttgart, Germany)
Dr Dower did an observorship at the Marienhospital, Facial and Plastic Surgery Unit under Professor Gubisch, one of the world's authorities on Rhinoplasty surgery.
Timothy Marten (San Francisco, USA)
Dr Marten has mastered the high-SMAS facelift technique to achieve a dramatic and beautiful result.
Professor Foad Nahai (Atlanta, USA)
Seen by many plastic surgeons as one of the founding fathers of cosmetic surgery. Also, the author of "The Art of Plastic Surgery" and editor of the Aesthetic Surgery Journal.
Mark Codner (Atlanta, USA)
An expert surgeon in blepharoplasty, facial rejuvenation and aesthetic breast surgery.
Sherrell Aston (New York, USA)
Well known as one of New York's top facelift surgeons.Dr Dower has completed two international fellowships in microsurgery with a special interest in breast reconstruction and treatment for lymphedema.
The first at St Thomas' Hospital in London, working as part of a multi-disciplinary team treating patients with breast cancer. The second, an advanced microsurgery fellowship at the China Medical University Hospital in Taiwan, dealing with all aspects of microsurgical reconstruction including complex head and neck reconstruction and treatment for lymphedema.
This was followed by an observorship in implant breast reconstruction at the Memorial Sloane Kettering Cancer Centre in New York. He is committed to helping treat women with breast cancer by being able to offer all types of breast reconstruction.
Pretoria Breast Enlargement – Augmentation
We can offer you different types of implants or even perform augmentation without any implant by injecting your own fat into the breasts. You are welcome to book a consultation so that we can listen to your personal story and help you get it right the first time. We also will explain to you in person the relevant chest anatomy so that you are informed how we are going to do the surgery. During this consultation we answer your questions so that your expectations become more realistic. We always do our utmost to make the surgery not only as safe as possible but also to keep you comfortable as far as possible. Patients are usually discharged home on the same day 2 to 3 hours after the procedure. Downtime from work/studies will be at least 1 week and you should not drive a car for at least 2 weeks. The cost of surgery includes the hospital, anaesthetist, assistant and surgeon's fees as well as the prosthesis and surgical brassiere. Breast augmentation currently costs starts from R50 200.00 depending on your type of prosthesis required.
Breast Enlargement
Breast Enlargement (Implant Surgery)
A breast enlargement surgery is used to increase and create a fuller breast size, many women suffer from a reduced breast size due to breastfeeding or aging. Some women naturally have smaller breasts, which may cause low self esteem. Breast implants are an ideal solution to this.
Book ConsultationCategory: Breast AugmentationTags: Breast Augmentation, Breast Enlargement, Implant Surgery
What is Breast Enlargement Surgery?
The procedure involves placing an implant in the breast cavity. A surgeon may position breast implants above (subglandular) or below your pectoral muscles (submuscular), dependant on the implant type and size. The surgeon will discuss the entire procedure with the patient before the surgery.
There are various types of implants available and your surgeon will help you choose the right fit and size to compliment your body, these are:
Silicone Implants: These implants also have a silicone shell, but they are filled with a smooth saline solution. Silicone implants look and feel more natural than saline implants.
Gummy Bear Implants or Silicone Gel Implants: These solid implants keep their shape if cut in half, just like the candy they are named after.
Implants may be round or teardrop-shaped, and they come in several different sizes.
---
The Ideal Candidate
The ideal candidate would be in generally good health and have realistic expectations with the outcome. Ideal candidates are typically:
Over the age of 18 years
In General good health
Stable in weight
Not planning to breastfeed in the near future
Not pregnant
---
How Much Does Breast Enlargement Surgery Cost?
Before any surgery can be scheduled a consultation must take place, here the surgeon will assess the patients needs and suggest the best procedure to achieve the required results.
Surgical cost are subject to:
Duration of procedure
Duration of your hospitalisation recovery
Additional procedures required
Consultation Fee: R1000
(Estimated Price: R55 000)
This number includes anesthesia and operating room fees. However, the total cost of your treatment will depend on your individual needs and goals. A number of factors will influence the final total of your procedure.
---
Breast Enlargement Surgery Before & After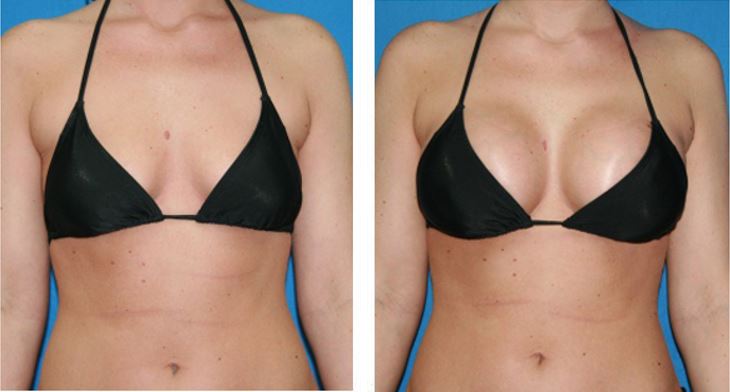 ---
Breast Enlargement Recovery
The recovery period varies for each patient. To minimize swelling, a compression garment is worn post surgery and vigorous exercise is completely off-limits within the first 3 to 4 weeks. Drainage tubes are placed to remove excess liquid during the first few days. The total healing time can be anything from 7 weeks to 10 weeks.
---
Complications | Risks | Side Effects | Scars
Although the surgery is generally a safe procedure, patients should be aware of the potential problems associated with the surgery. Breast enlargement risks and complications include the chance of infection, adverse reaction to anesthesia, and uneven nipple height.
Temporary Side Effects
After undergoing the surgery, the patient may feel all or none of these very normal and common side effects:
Sore breasts
Scars
Bruising and swelling
General discomfort
Itching
Other Possible Side Effects
Like all medical procedures, the risk of complications increase when proper aftercare treatment is not followed. These complications include:
Developing of lumps in or around the breasts
Loss of nipple sensitivity
Uneven shapely breast (A great surgeon will avoid this)
Progressive pain that cannot be addressed with your pain medications
A high fever
Strange discolouration, and or leaking
Infection
Nerve damage
Bleeding
Unable to breastfeed in future
These risks will be fully disclosed and explained by the surgeon, if at any point post surgery a patient suffers from any serious side effects – please consult your surgeon immediately.