What is breast augmentation in Korea?
Breast augmentation is a surgical procedure that involves the insertion of an implant, usually made of silicone, into the breasts. It's used to increase the size, firmness or projection of your breasts.
Why do women get breast augmentation surgery?
Women get breast augmentation surgery for many different reasons. Some want to restore their breasts after pregnancy or weight loss, while others seek improvement in their appearance. Some women even choose breast augmentation as a way to feel more confident about themselves and their bodies.
How is breast augmentation performed?
You'll be given general anesthesia before the procedure begins and will wake up with a bandage around your chest area. You may need stitches after your surgery, but these are normally removed within 7 days after your procedure has been completed!
Breast augmentation in korea
There are plenty of women that see Breast Augmentation as a great solution to enhancing their visual appeal. Therefore it is very important to understand all the different factors regarding Breast Augmentation, ie. What the procedure entails, the price and the best clinics in Seoul 2021 for Breast Augmentation. 
What is the cost of Breast Augmentation in Seoul?

That depends on a variety of factors, as you will see below. 
Type – The type of implant brand used also makes a big difference, because higher quality breast implant products such as MOTIVA, will be more expensive than other brands.

Previous revision surgeries – Another important factor that affects price, is the number of revision surgeries that a patient might have had before. A primary breast augmentation patient will pay less than a revision patient, as revision surgeries are more complex.

Doctor experience – Other factors such as doctor experience also plays an important role in determining the price, as extremely experienced doctors will cost slightly more.

Clinic reputation – Even the clinic where you have the surgery done is an important consideration when trying to establish the price. Most of the time clinics will have special arrangements with agencies which are how patients can take advantage of discount deals or complimentary services.

Average cost for breast augmentation is usually around $2500 for an entry level patient, but it can also go up to $15000.
*As a note, aftercare is almost always provided when getting a breast augmentation done in Seoul. Some clinics also offer a 1 year warranty, and in some cases that time might also be extended.


Is hospitalization needed?
That depends on each individual case but most of the time, yes. If the procedure is simple, then the hospitalization time is minimal. That being said, you will likely end up staying in the hospital for a little bit of time immediately after your procedure, most clinics will offer a complimentary evening in their in house accommodation.

Operation length
Of course all procedures will vary on certain factors such as size, age, skill level and desired look. But in general the procedure is not super long. It usually takes around 1.5 to 2 hours, depending on how everything comes together.

Of course, there are situations when the Breast Augmentation surgery will take a bit longer if the doctor sees the need for that. As safety is always the primary concern in some cases the operation might end up taking a bit more time, but it will always be in order to keep you safe. But don't worry you will be sedated and before you know it you will be awake with your desired breasts.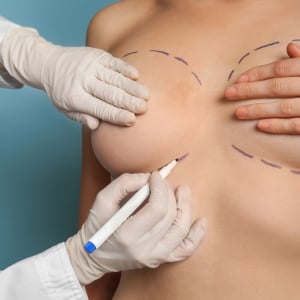 When can you remove stitches?
Those stitches need to stay there for a little while. Most of the time that will be either 1 or 2 weeks after the surgery takes place. The healing process and where you had the incisions, or how many of them, will determine how long it takes to have the stitches removed. When it comes to removing stitches the following the doctors' orders is of utmost importance.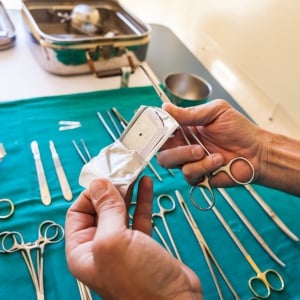 Breast Augmentation is very popular in Korea, and most females are eligible to do it. It is a safe procedure and is usually performed without any problems or hiccups.


Best Breast Augmentation Surgery Clinics In Korea
Below is a list of some clinics that are widely recognized for their Breast Augmentation capabilities 
View plastic surgery is one of the best-known Breast surgery clinics in Korea with over 17 years' experience. The head surgeon of View is also the chief Breast surgeon, Doctor Choi Soon Woo. View uses a 4-step program to guarantee quality results and absolute safety from pre surgery through to 1 year post care.

Before the surgery – The clinic will do extensive tests and consultations to not only make sure your expectations are fully understood, but also to make sure that they are achievable safely.

Surgery planning – The doctors will take into consideration factors such as; chest thickness, skin and muscle condition and desired shape.

Surgery – The actual surgery is performed with extreme precision in order to reduce time spent under the knife which assists with minimizing bleeding and pain.

Breast care – View also places great emphasis on breast care after the procedure. This includes suture removal, breast care training, ultrasound examinations and consultants available to take your questions at any time.
Namu Plastic Surgery
Namu is another clinic that are very popular for breast surgery among Korean and Foreign patients alike. Namu focuses on creating natural breasts with a soft and untouched look.

Namu creates natural breasts by taking various factors into consideration:
First the doctor looks at you body proportion and obesity level, this is to create symmetry and proportion between the breasts, torso and legs.

Next, the clinic uses the golden ration breast triangle shape to confirm the best possible natural looking results.
Using these tried and true methods Namu has been able to deliver some amazing results over the last 10 years. 
Is Plastic Surgery Really Cheaper in South Korea? If So, Is it Worth the Trip?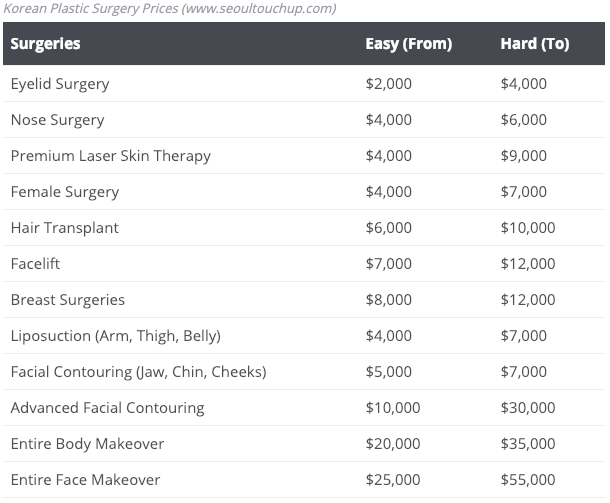 When we talk about plastic surgery, it's usually the roof party somewhere in Beverly Hills we imagine, or the perfect beach body getting out of a brand new Porsche in Palm beach. Plastic and cosmetic surgery have long been considered an American symbol, something rooted in its culture of showmanship and appetite so deeply it's almost a tradition. And yet, more than 1.4 million Americans fly thousands of miles each year to countries as close as Mexico and as distant as Japan to have their aesthetic procedures done. It is estimated that on average, you can save from 40 to 80 percent on the procedures abroad. Recently, South Korea has emerged as the plastic surgery capital of the world, with the highest number of procedures carried out per capita. While the aesthetic adjustments are highly popular among Koreans themselves, the reputation has sparked international curiosity, too, and tens of thousands of foreigners each year travel to the country with a sole purpose of going under the knife. For some, it's the overarching K-pop culture that drives them here; after all, who is better at turning you into a Korean pop star than the surgeons who've worked with the stars themselves? For others, medical tourism is about adventure; going through the procedures isn't really fun, so you might as well try and add some joy into the mix. Most medical tourists, however, are motivated by money. There is an unofficial consensus among that last group that plastic surgery procedures are cheaper in any country that is not the U.S. It is true, for the most part—on paper. Let's take a look at the actual prices of different plastic surgery procedures in the U.S. versus South Korea (data taken from this website and WebMD):
Eyelid Surgery price average: U.S.: $3,022 — South Korea: $3,000
Facelift price average: U.S.: $7,048 — South Korea: $9,500
Liposuction price average: U.S.: $3,374 — South Korea: $5,500
Breast Augmentation price average: U.S.: $7,500 — South Korea: $7,000
These are, of course, ballpark figures. The actual prices quoted to you by your surgeon may vary significantly from these averages. But the numbers do tell us something. According to these, if there is a price difference between U.S. plastic surgeries and South Korean ones, it is definitely not large enough to call the decision a "no-brainer." Why then so many people are still keen on flying to the other side of the world to do something they can do at home?
3 SOUTH KOREAN PLASTIC SURGERY MYTHS
There are several widespread misconceptions about plastic surgeons in Korea. To save you a lot of time, money and nerves, we'd like to shed some light on the matter.
MYTH #1: KOREAN PLASTIC SURGEONS ARE BETTER
If there's one thing that South Korean plastic surgeon practices are undeniably good at, it's marketing. Google "before and after" photos from our South Korean colleagues, and you'll see dozens of unbelievable transformations. Most of those photos look like they feature two different people. In the mind of an unsuspecting prospect, this can very well appear as a sign of the surgeon's qualifications. One might easily think, "if he can do that, he can definitely fix me up, too." However, this train of thought can lead to very misleading conclusions. The number one reason why South Korean plastic surgery photos look so stunning is because the magnitude of changes requested by the patients in those photos was extremely large. In fact, the finesse of a surgeon's execution is much more observable with small, delicate changes, rather than complete makeovers. Big changes trick the eye into missing the details. The reality for most plastic surgery patients is that they don't want big makeovers or drastic transformations. In all honesty, many patients don't want anyone to know they've made the decision to go under the knife. They want their family and friends to appreciate their natural beauty, rather than see their new looks as artificial adjustments. Fact #1: There are good and bad plastic surgeons in both the U.S. and South Korea. There are surgeons and practices that will understand what you want and will make you feel confident enough to trust your procedures with them, and there are the ones who won't. What the online pictures reflect is evidence of marketing skill, not plastic surgery qualifications.
MYTH #2: A TRIP AND A SURGERY? TWO BIRDS WITH ONE STONE!
Many patients who will eek out lower-priced offers from 'exotic' Korean surgery practices think that the price difference will make up for the traveling and accommodation expenses, effectively making it a 2-in-1 offer. Who doesn't want a South Korea trip to go along with their surgery offer? While the price tag might make sense, the reality of having surgery in a distant foreign country is anything but pleasant or exciting. Fact #2: Post-op recovery is not fun, especially in a foreign country. If you're motivated enough to go to Korea to have your plastic surgery procedure done, chances are you're going for something a little more major than a quick skin rejuvenation therapy. Invasive procedures and the anaesthesia used during the surgery always leaves patients slightly disoriented after the procedure. The minimal recovery time for most major operations (eyelid surgery, facelift surgery, breast augmentation/reduction, liposuction, abdominoplasty) is 5-7 days—that's the minimum time period before you'll feel comfortable going out of your room. Naturally, 18-hour flights are not ideal for your recovery regimen. This leaves you with one choice: stay in your hotel room until you've at least partially recovered. Unless you have a place to stay at, that is. Normally, home care is strongly advised after the surgery. Some patients will take the whole experience better, while others will be more affected, but it always does leave patients in a state of increased vulnerability. To avoid serious trouble and inconvenience, we always recommend our patients to postpone any major events for at least 2 weeks after the surgery. Bottom line is, if you truly hope to enjoy your plastic surgery tourism adventure, it should be at least a month long. Otherwise, you'll simply spend your time being cared for in your hotel bed. Or—even worse—try to do it all yourself in a foreign country, after the surgery. b>Fact #3: you always want to be able to contact your surgeon after going under the knife. Should you experience any complications, it is the original surgeon you want to call first. They will best know how they've altered your body and will be in a prime position to help you out. That's why it might not be the best idea to have surgery on the other side of the world.
MYTH #3: THE WHOLE PROCESS IS EXTREMELY SMOOTH IN KOREA
People who're seriously considering going to South Korea for beauty enhancements are usually the ones who've seen one of many videos and articles on the Internet that supposedly describe their whole journey. While there are many outstanding plastic surgery practices in the country, don't trust everything you see on the Internet. These videos are often closely curated by marketing specialists who make sure that no negative experiences make it to the final version of the content. Fact #4: There are several ways your plastic surgery trip can go wrong, and it all begins with the language barrier. According to this anonymous testimonial, it is common for Korean plastic surgeons to not speak English. The communication then happens through a designated translator—who is often simply the practice's administrative employee who speaks some English. Of course, the final decision is always yours, but would you allow a chance of your plastic surgeon not understanding exactly what you want? Or them not being able to clearly communicate the risks and side-effects of the surgery? A decision of this magnitude should never be communicated through a foreign language filter. Fact #5: It is not a secret that the plastic surgery culture in South Korea is different from that in the U.S. Here, we try to build trust and confidence with our patients through one-on-one conversations, careful planning, customized treatment plans, follow-ups and other personalized care. The whole service package may cost more, but we see the process from the beginning through the end. In Korea, apparently, not all clinics adhere to this philosophy. With the massive demand for surgeries, many practices take on a productivity-focused approach, more characteristic to manufacturers rather than surgeons. With multiple surgeries performed every day, the patients are shuffled around the clinic as if they're half-baked goods on a production line, rather being treated as human beings in their most vulnerable states. Fact #6: Medical tourists are still, in many ways, tourists. More often than not, they are not familiar with the local language, customs, and, most importantly, the prices. Several testimonials have reported that the prices for surgical and non-surgical procedures are almost never quoted on the tourist-oriented websites, and often the price quotes given to foreigners exceed the expected market price. To avoid getting ripped off, read the following section.
IF YOU DO DECIDE TO GO, HERE ARE A FEW TIPS
Naturally, some of our readers will not be dissuaded by the arguments provided here and will seek plastic surgery care in the exotic South Korea. Perhaps you have a unique reason for pursuing this endeavor—a reason strong enough so that the counter-arguments in this article fade into the background. In either scenario, here are a few tips and suggestions that could go a long way in making your plastic surgery trip less stressful:
Research the prices. As briefly mentioned in the previous section, South Korean plastic and cosmetic surgery practices often take advantage of their foreign patients by quoting higher-than-normal prices. While you can find ballpark price figures in this article, make sure to consult with several practices before you make the trip. Even if the consultations have to be paid for, it's still better than being ripped off upon arrival, and having to wait for another month before another surgeon will be able to see you.
Research the forums. There are plenty of American men and women who've done the trip before you, and they frequently share their experiences on websites like Realself, Purse Forum and Reddit (/r/plasticsurgery, /r/koreanbeauty, /r/undertheknife.) Along with their impressions, tourists will often share recommendations for surgeons, and insights on what they would have done differently if they were to make the trip again.
Plan your trip liberally. One of the worst things that can happen on your plastic surgery journey is you running into some sort of delay or complication, while on a tight deadline to get back home for a project or event. Depending on what type of surgery you're after, it might be a good idea to take as much as 1.5-2 months off, just to make sure you're covered.
SUMMING IT UP: IS IT WORTH THE EFFORT?
While having surgery in a country as distant as South Korea might seem like a lucrative option finance-wise (even though the prices are pretty even across the board), it is hardly worth it. If you've been jaded with the "before-and-after" pictures you've seen online, don't be. The magnitude of the operation is a very weak indicator of the surgeon's qualifications; in fact, the contrary may be true—a drastic change might mean the surgeon failed to give the patient adjustments that enhance their natural beauty. If you think that the trip might be fun and the price discrepancy will 'pay for' your entire flight and stay, then you need to seriously reconsider. Unless you have a permanent place to stay in the country, your South Korea adventure may very well turn into a week-long post-op nap in your hotel room. Sightseeing and exiting your room, in general, is not what you'll want to be doing 5-7 days after the surgery. Lastly, don't be fooled by the 'my plastic surgery journey in Korea' videos. These content pieces are often sponsored by the clinics themselves, and often leave out negative experiences caused by the language barrier and the manufacturing culture of Korean plastic surgery practices.