When you're ready to take the next step in your life, it's important to know that there are options available for you. If you're considering breast reduction surgery in Maryland, we understand that this is a big decision and can be an overwhelming process. We want you to have all the information necessary to make an informed decision about your body and what is best for your health.
Breast Reduction Surgery In Maryland
Breast Reduction
Board-Certified Plastic Surgeon In National Harbor Accepting New Patients Near Washington DC, Arlington, Fort Washington, Maryland & Virginia
Having overly large breasts isn't always ideal. Often, it can lead to a variety of physical and psychological issues. Large breasts can make it difficult to find clothes that fit properly and result in unwanted attention from others, causing self-esteem issues.
What Issues Can A Breast Reduction Help Correct?
However, the physical complications associated with large breasts are often more problematic. Many women find that large breasts result in:
Debilitating back, neck and shoulder pain
Painful grooves on the shoulders from bra straps
Rashes, irritation and skin inflammation from breasts rubbing on the chest or abdomen
Poor posture
Headaches due to neck strain
Respiratory problems
Difficulty engaging in active, athletic activities
Breast reduction is an effective way to alleviate these issues and restore an attractive breast appearance that is more proportional with your body.
Benefits Of A Breast Reduction
For many women, the physical, aesthetic and psychological benefits of breast reduction can be truly life-changing:
Reduction in chronic back, neck or shoulder pain
Improved ability to engage in athletic activities
Overall improvement in physical comfort
Improved breast appearance and more proportionate body contour
Clothing fits better, providing a more attractive overall appearance
Improved self-esteem
More positive body image
Candidates For Breast Reduction Surgery
Breast reduction may be an ideal solution for you if you experience one or more of the physical and emotional issues discussed above. You should also be in good overall health and have realistic expectations for the outcome of your procedure. If you smoke, you must be willing to quit prior to surgery and throughout the recovery period since smoking can adversely impact healing and results.
If you're planning on having children, you should discuss this with Dr. Chiaramonte during your consultation. While future pregnancies will not prevent you from undergoing breast reduction, the changes to your breasts caused by pregnancy and breastfeeding can potentially impact your results. Depending on the extent of the physical issues you're experiencing and how soon you plan on having children, Dr. Chiaramonte may recommend waiting in order to avoid the need for a revision procedure after you've completed this phase of your life.
Your Breast Reduction Procedure
Breast reduction is generally performed on an outpatient basis under general anesthesia. The procedure takes about 2-3 hours to complete:
While Dr. Chiaramonte uses a variety of techniques, he prefers to use an anchor-shaped incision that circles the areola and extends vertically downward along the natural crease underneath the breast
During your breast reduction procedure, Dr. Chiaramonte will remove excess glandular tissue, fat and skin
The nipple and areola will be relocated to a new location in order to provide the most natural looking appearance
Skin from either side of the breast is then gently stretched down and around the areola, forming the breast's new contour
Liposuction may be used to eliminate extra areas of fat located in the armpit region. In some instances, Dr. Chiaramonte may also recommend a breast lift in conjunction with breast reduction to restore a perkier, more youthful breast appearance.
Recovery After Breast Reduction Surgery
After your procedure, your breasts will be wrapped in gauze dressing and covered with either a stretchy bandage or a surgical bra. A small drain may be inserted at each surgical site to help blood and fluid escape.
You can expect the following time table during your recovery:
Your gauze bandages will be removed 1-2 days after surgery, but you must continue wearing the surgical bra until irritation and discoloration fade
Sutures will be removed 1-3 weeks after surgery
You may experience mild discomfort during the first few days after surgery
In general, most women can return to work in about 2 weeks
It's best to avoid heavy lifting or strenuous activities for 3-4 weeks
Make sure you wear a surgical or sports bra all day and night for 8 weeks after surgery
Breast Reduction Cost
The average cost of a breast reduction at Bella Cosmetic Surgery is between $7,800 and $10,300. Keep in mind that your fees could fall above or below this range. During your consultation, Dr. Chiaramonte will give you a more concrete estimate based on your unique needs and goals.
In some instances, breast reduction may be covered by insurance. Whether your procedure will be covered depends on a variety of factors including the reasons for surgery and your insurance carrier. In general, the procedure must be deemed medically necessary due to excessive pain in order to be covered by insurance. During your pre-operative visits, our team will help you submit all necessary paperwork to your insurance in order to see if your procedure will be covered.
BREAST REDUCTION
Conveniently located to serve the areas of Rockville, Maryland, Northern Virginia and Washington, D.C.
*results may vary
It is common for women with overly large, pendulous breasts to experience both emotional and physical discomfort as a result of their enlarged breasts. Women who are self-conscious or embarrassed about their large breasts tend to avoid standing up straight or wearing certain types of clothes.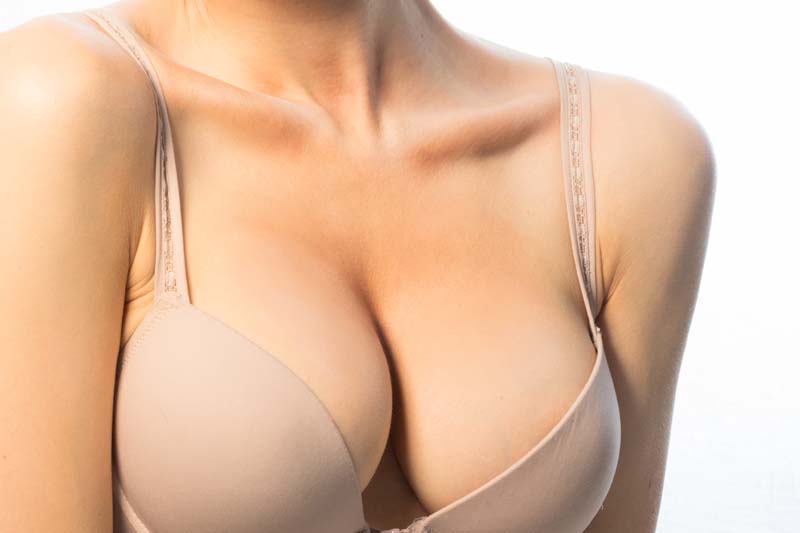 Women with overly enlarged breasts often suffer from chronic physical discomfort. Their bra straps constantly dig into their shoulders, creating grooves, or indents, in their skin. Large-breasted women may also experience chronic neck and back pain, due to the weight of their breasts constantly pulling them forward and causing them to hunch over inadvertently. They may also frequently get rashes under their breasts. Finally, engaging in certain physical activities such as running or jumping can be painful with overly large breasts.
BEFORE AND AFTER PHOTOS
Previous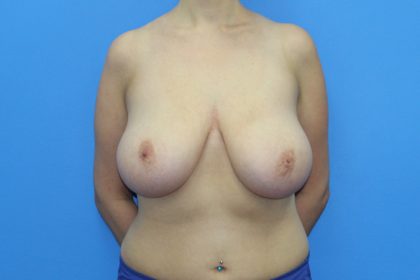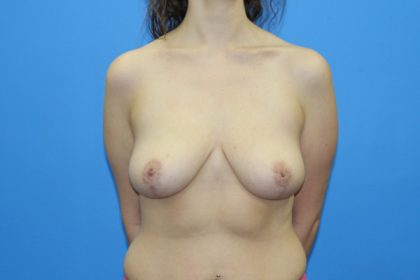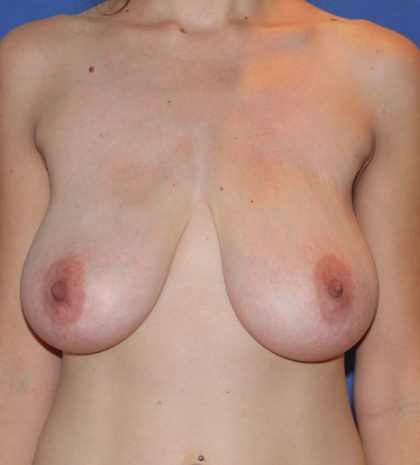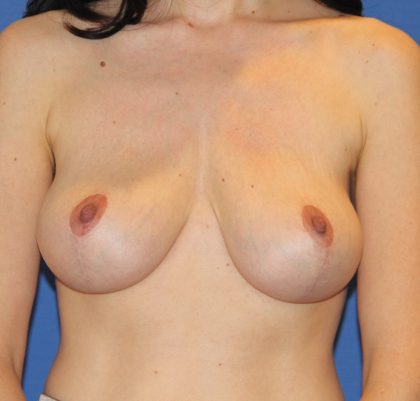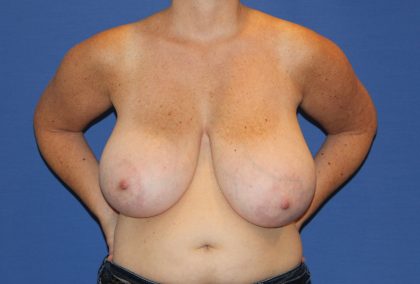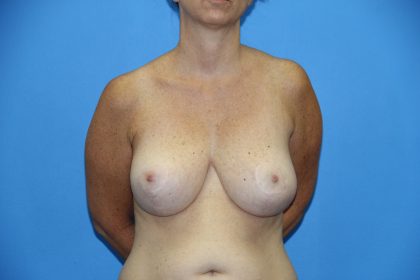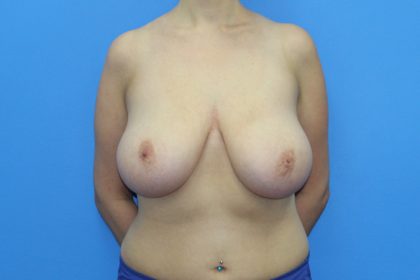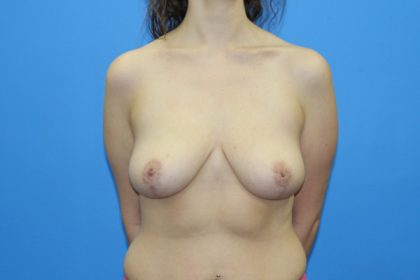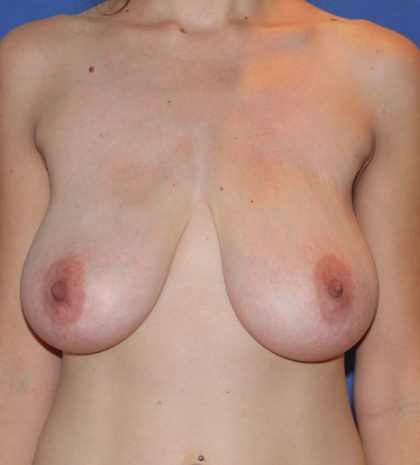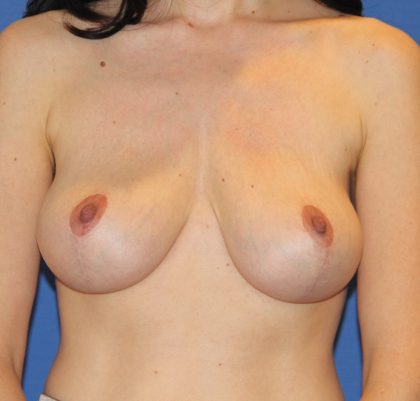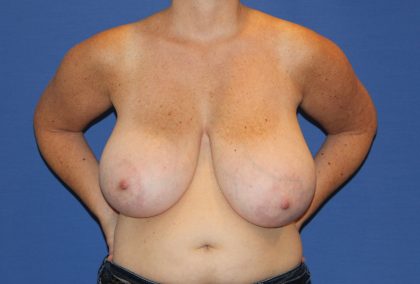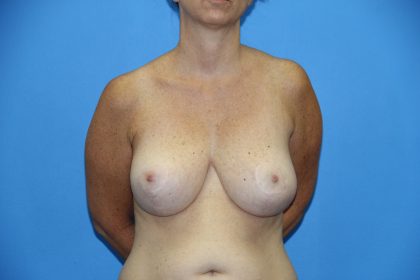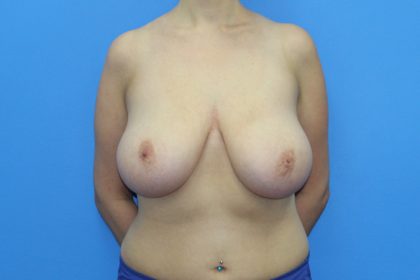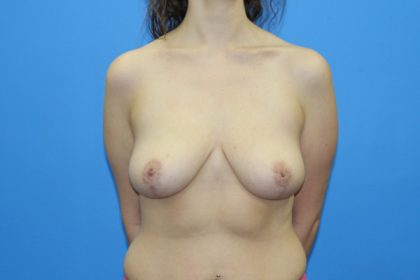 Next
What is a Breast Reduction?
This cosmetic procedure will improve the appearance of your chest and reduce discomfort.
A breast reduction is a surgery that reduces excess tissue in either one or both breasts. This surgery can be used to correct asymmetry and will ultimately make the breasts smaller in size. Large breasts can be uncomfortable and cause physical pain. Plastic surgery treatments like breast reduction techniques can reduce discomfort and help you regain a feminine physique.
Breast Reduction Benefits
Maryland plastic surgeon Joseph Michaels, MD, FACS, offers breast reduction surgery to help alleviate the pain, discomfort and embarrassment associated with having extremely large breasts.
The aesthetic goal of breast reduction surgery is not to reduce the size of your breasts so drastically that you no longer look like yourself, but to give you smaller breasts that are perkier, shapely and in balance with the rest of your body. The most common comment that Dr. Michaels' breast reduction patients make after surgery is, "I can't believe I didn't do this sooner!"
Undergoing surgical breast reduction in Rockville or Fairfax with Dr. Michaels provides relief from neck, back and shoulder pain — almost immediately after surgery.
Incision Pattern Options
Many of Dr. Michaels' patients are concerned with the location and degree of scarring that they may have following their procedure. Traditionally, patients were left with significant incisions that surrounded the areola (the darker-skinned area around the nipple), a vertical incision that extended from the base of the areola to the natural fold of the breast and an incision that extended the full length of the natural fold of the breast. There are newer techniques that can limit the length of the incisions needed to obtain the desired size and shape of your breasts.
During your consultation, Dr. Michaels will evaluate your breast anatomy and discuss your aesthetic concerns. Based on this information, he will design a treatment protocol that best suits your individual needs.
Based on the degree of glandular breast tissue to be reduced, the amount of excess skin present and the distance that the nipple-areolar complex needs to be elevated, Dr. Michaels will determine which technique and incision pattern he will utilize during your procedure.
ANCHOR INCISION
For patients requiring a significant breast reduction and elevation of nipple-areolar complex, the traditional breast reduction approach is still commonly utilized. Again, this procedure involves the use of a horizontal inframammary incision positioned underneath the breast's natural crease, a vertical incision that extends down the front surface of the breast and a periareolar incision that runs along the outside edge of the areola. These incisions are sometimes referred to as the "anchor" pattern.
LOLLIPOP INCISION
Incisions will be made thoughtfully and discreetly.
Patients that require smaller reductions and minimal elevation of the nipple-areolar complex may be suitable candidates for a modified "short-scar," or vertical, breast reduction approach. This procedure involves reducing the breast size through a periareolar and vertical incision only. These incisions are sometimes referred to as a "lollipop" pattern.
One incision pattern or a combination may be used to treat your breasts. The incisions will be gone over in your personal consultation and a method will be developed.
Candidates
This surgery is ideal for women with overly large, uncomfortable breasts. If you find that it is hard to fit into bras and that physical activities often result in breast pain, it may be time to consider a breast reduction. If you are interested in what a breast reduction can accomplish for your life, reach out to our office today to learn more.
Personal Consultation
Your health and safety are of the utmost importance to us.
In your private meeting with Dr. Michaels, you will have the opportunity to express your concerns and share how you would like your chest to appear. Photos of breast reduction surgery before and after female rejuvenation will help you gain a realistic expectation of what will be accomplished. You will be listened to and your health will be inquired about. Questions about your past procedures, current health, allergies, and lifestyle will be asked. An examination of your breasts will take place and from all of this information, Dr. Michaels will determine if a breast reduction surgery is your ideal solution. He may suggest a breast lift to include in your reduction surgery to bring about your best results.
Together, we will create a treatment plan that transforms your chest and alleviates discomfort.
Preparation
Prior to your surgery date, you will want to arrange for rides to and from the appointment. Ask a friend or family member to stay with you for the first twenty-four hours of recovery. It will help to have someone around to assist you and help you adjust. Pick up prescribed medications and stop smoking. Smoking habits will need to be paused for a few weeks before and after surgery. Twelve hours before surgery you will need to stop eating and drinking. Get a good nights rest and wear comfy, loose-fitting clothes to the appointment.
Procedure
It is common for women to undergo breast lift at the same time as breast reduction surgery.
Typically, the breast reduction procedure is performed as an outpatient surgery. The procedure is done under general anesthesia to ensure the patient is comfortable for the entire duration of surgery.
After Dr. Michaels makes the incisions, he eliminates the extra skin, fat and glandular tissue from the breast. Most of the skin and tissue is removed from the lower part of the breast. This helps preserve the tissue in the upper part of the breast that contributes to breast cleavage. Dr. Michaels will also move the nipple to a more elevated and centralized position on the breast, taking care to keep the nipple attached to the underlying tissue to maximize the chance of preserving nipple sensation.
It is common for women with extremely large breasts to also have overly enlarged areolas. To decrease the size of the areola so that it is in proportion to the smaller size and shape of the breast, the Maryland breast surgeon excises some of the pigmented skin from the outer circumference of the areola.
Once Dr. Michaels is satisfied with the new size and shape of the breast, he closes the incisions with dissolvable sutures and then dresses the breasts with bandages and an overlying surgical bra.
QUICK FACTS
LENGTH
2-4 hours
ANESTHESIA
General
IN/OUTPATIENT
Outpatient
SIDE EFFECTS
Temporary swelling, muscle tightness, bruising and some pain
RISKS
Pain, bleeding, infection, asymmetry, damage to nerves (in rare cases), need for revision
RECOVERY
4-7 days: back at work. 1 week: light exercise only. 2-3 weeks: more strenuous activity allowed. 8-12 weeks: swelling resolves and patient can resume normal activity.
DURATION OF RESULTS
Variable, as further sagging occurs with age
Recovery
Following the surgery, your chest will be sensitive and swollen. Pain medication will help control discomfort and we encourage you to take brief walks. Low impact exercise like walking will improve your circulation and help you recover well. Breast reduction surgery recovery time will vary between each patient as everyone has a unique body and healing process. Be sure to get plenty of rest and drink lots of water. A follow-up appointment with Dr. Michaels will allow our staff to ensure you are healthy and your results are coming in well. Most patients can return to work after a week and exercise after a few weeks.
Results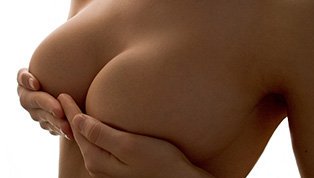 You will already have noticed an improvement in the appearance of your chest following treatment. Your results will only get better throughout your recovery process. A breast reduction will promote long-lasting results. This outcome should set in about eight to twelve weeks after surgery. It is important to keep a healthy, consistent weight. An active life and healthy eating will help you keep your results for a long time! If you're thinking, "I want breast reduction surgery" then today is your day! Reach out to us to schedule a consultation with our accredited, caring staff today.
Breast Reduction Surgery Cost
Breast reduction surgeries are customized to your anatomic features and body goals. The personalized nature of these procedures requires costs to fluctuate between patients. A cost breakdown will be gone over in your personal consultation. If you are not near our offices in Maryland, Virginia and Washington, D.C. we suggest you call our office to learn the estimates of these surgeries or search, "Breast reduction surgery near me". Do your research and make sure to find a credible surgeon. We are more than happy to help patients from all over and agree that a trip to our office is well worth it.